Bernal History Project
Bernal Heights is a hilltop village, tucked away in the southern part of San Francisco. Freeways and urban thoroughfares now bound a neighborhood once defined by the swamps and creeks of the original Mexican land grant. From the 1860s legend of Widow O'Brien's cow to the current fight over the preservation of the branch library's murals, residents have tirelessly guarded and recorded their environment. Bernal is diverse, vibrant, and still evolving.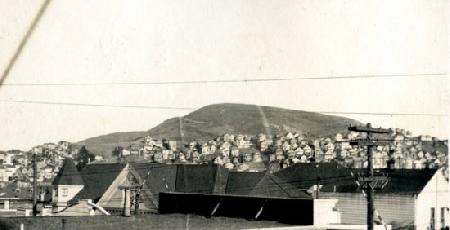 This site aims to provide a solid basis in researching the neighborhood. Browse the links, subscribe to our newsletter, and contact us if you want to know more about anything Bernal-related not shown here.
Upcoming Events
Jul 17, 2019 7:00pm-8:30pm (Wednesday) at Bernal Heights Branch Library
Tracing the El Camino Real Through Glen Park


This month's presentation is from one of our neighborhood neighbor groups, the Glen Park Neighborhoods History Project!

Today's Chenery and Arlington Streets were first platted during the Civil War as part of the Pacific Railroad Homestead Association. More Info...
Historic Bernal News
Welch Club Formed

October 30, 1900 San Francisco Chronicle



A Dick Welch Republican club was organized last evening at Bernal Hall by his friends in the Nineteenth Senatorial district to further the interests of his candidacy. T.J. Curtin was elected president of the club. A grand rally was arranged for next Friday evening at Bernal Hall, when the club and its friends will be addressed by prominent speakers and a social evening's entertainment given in honor of the man for whom the club was named.