Bernal History Project
Bernal Heights is a hilltop village, tucked away in the southern part of San Francisco. Freeways and urban thoroughfares now bound a neighborhood once defined by the swamps and creeks of the original Mexican land grant. From the 1860s legend of Widow O'Brien's cow to the current fight over the preservation of the branch library's murals, residents have tirelessly guarded and recorded their environment. Bernal is diverse, vibrant, and still evolving.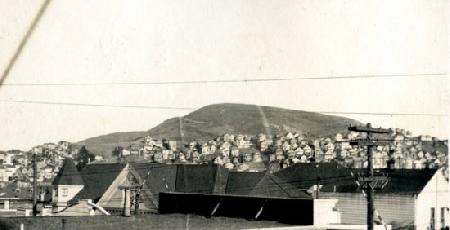 This site aims to provide a solid basis in researching the neighborhood. Browse the links, subscribe to our newsletter, and contact us if you want to know more about anything Bernal-related not shown here.
Historic Bernal News
Why Berner Died

April 2, 1891



The trial of William Sullivan, charged with the murder of shoemaker Berner, on Bernal Heights, in March of last year, was resumed in Judge Troutt's court yesterday. Drs. McDermott and Baumeister testified that they had treated Berner for pneumonia contracted several weeks after his row with Sullivan, and that he died from the effects of that disease.

Sullivan, when put on the stand in his own behalf, denied that part of his written statement made to Detectives Hogan and Cody, in which he confessed to have struck Berner. He swore that Michael Dolan, who has been made a co-defendant and who made a similar confession, implicated Sullivan and himself, was not present at the time of the row. The trial will go on to-morrow.