Bernal History Project
Bernal Heights is a hilltop village, tucked away in the southern part of San Francisco. Freeways and urban thoroughfares now bound a neighborhood once defined by the swamps and creeks of the original Mexican land grant. From the 1860s legend of Widow O'Brien's cow to the current fight over the preservation of the branch library's murals, residents have tirelessly guarded and recorded their environment. Bernal is diverse, vibrant, and still evolving.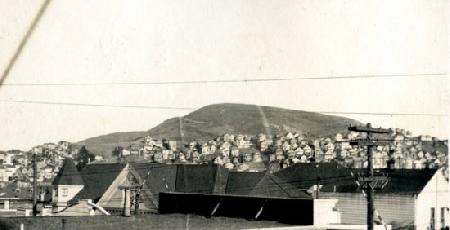 This site aims to provide a solid basis in researching the neighborhood. Browse the links, subscribe to our newsletter, and contact us if you want to know more about anything Bernal-related not shown here.
Upcoming Events
Oct 16, 2019 7:00pm-7:01pm (Wednesday) at Bernal Heights Library
No meeting in October -- Happy Halloween!
We're skipping our usual monthly meeting. More Info...
Historic Bernal News
A German Church

October 26, 1893


IT WILL BE BUILT ON BERNAL HEIGHTS.

Work of the Franciscan Fathers in the Mission; The Site Is Purchased.

In a report of the dedication of Saint Elizabeth's German Catholic Church at Fruitvale incidental mention was made of the firm hold the Franciscan Fathers are again obtaining on this coast.

Their labors in the restoration of the fine old Mission Church of San Luis Rey were referred to and the fact that they had enlarged St. Boniface's Church in this city was mentioned.

These fathers work in a very systematic manner. Before St. Elizabeth's Church was built they provided a temporary hall for the congregation, then they purchased a tract of land, building a little later on the present church. It is their intention in a few years' time to replace that church by a larger one.

In this city they are doing the very same thing. They have recently purchased from the North Beach and Mission Railroad Company the greater portion of a block of land bounded by Precita avenue, Bernal, Army and Folsom streets as a site for a new church. They own the whole block except for the southwest corner of Bernal and Precita avenue, 125x125.

German Catholics in the Mission and along the San Bruno road at present worship in a store rented for the purpose, but they will soon have a church of their own.

The Franciscan Fathers do all their own work. The designs for St.Boniface's alterations, for St. Elizabeth's and for this new church are all by Rev. Brother Adrian, O.S.F. As usual church and school will be combined in the Bernal Heights building. It will be of wood on a brick foundation, very simple in its outline, cruciform in plan and beautified with stained glass windows. The estimated cost is $14,000.

The church will be built by the carpenters, bricklayers and other artisans of the Franciscan order.