Bernal History Project
Bernal Heights is a hilltop village, tucked away in the southern part of San Francisco. Freeways and urban thoroughfares now bound a neighborhood once defined by the swamps and creeks of the original Mexican land grant. From the 1860s legend of Widow O'Brien's cow to the current fight over the preservation of the branch library's murals, residents have tirelessly guarded and recorded their environment. Bernal is diverse, vibrant, and still evolving.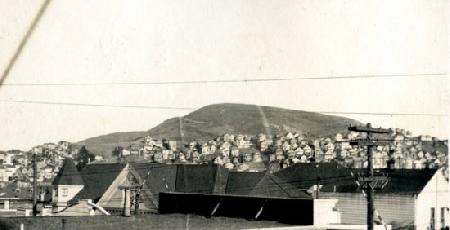 This site aims to provide a solid basis in researching the neighborhood. Browse the links, subscribe to our newsletter, and contact us if you want to know more about anything Bernal-related not shown here.
Upcoming Events
Feb 21, 2018 7:00pm-8:30pm (Wednesday) at Bernal Heights Branch Library
From Confederate Spy to Lesbian Collective: The Strange History of 386 Richland


BHP founder member Molly Martin has compiled a slideshow about the history of the Bernal Heights building where she has lived for 38 years -- and the shocking details she's just learned about its first owner. More Info...
Historic Bernal News
Hoodlums Attack Policemen

March 29, 1892



Officers J.K. Phillips and P.G. Smith arrested Robert Howe on Alabama Street for drunkenness Sunday night. A mob of Bernal Heights hoodlums stoned the policemen and attempted to rescue their prisoner. Four of the hoodlums, John and Dennis Lyons, Thomas Goodsell and Ryan Jones, were subsequently arrested for disturbing the peace.