Bernal History Project
Bernal Heights is a hilltop village, tucked away in the southern part of San Francisco. Freeways and urban thoroughfares now bound a neighborhood once defined by the swamps and creeks of the original Mexican land grant. From the 1860s legend of Widow O'Brien's cow to the current fight over the preservation of the branch library's murals, residents have tirelessly guarded and recorded their environment. Bernal is diverse, vibrant, and still evolving.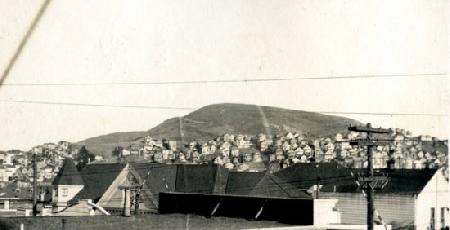 This site aims to provide a solid basis in researching the neighborhood. Browse the links, subscribe to our newsletter, and contact us if you want to know more about anything Bernal-related not shown here.
Historic Bernal News
Court Says Veteran Must Pay Land Tax

July 16, 1920 San Francisco Chronicle



W.S. Howe, Civil War veteran, 85 years old, must pay an assessment of $450 upon a lot for which he paid $400 several years ago, according to a decision handed down by the Appellate Court yesterday.

In contesting the case the law of the land which exempts veterans of the Civil War from payment of taxes to the amount of $1000 was cited, but the Court held that that law applied to general taxes only, not to special assessments.

The lot in question is on Newcomb avenue, between Keith and Lane streets. It is a hill lot and was formerly used as pasture land by Carmen de Bernal and old hidalgos under the Mexican regime. It was a part of the Bernal Rancho of long ago.

Howe is not only old, but is said to be ill, due to the infirmities of age.

The case was appealed from the Superior Court of San Francisco.