Bernal History Project
Bernal Heights is a hilltop village, tucked away in the southern part of San Francisco. Freeways and urban thoroughfares now bound a neighborhood once defined by the swamps and creeks of the original Mexican land grant. From the 1860s legend of Widow O'Brien's cow to the current fight over the preservation of the branch library's murals, residents have tirelessly guarded and recorded their environment. Bernal is diverse, vibrant, and still evolving.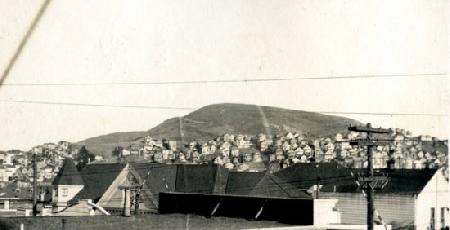 This site aims to provide a solid basis in researching the neighborhood. Browse the links, subscribe to our newsletter, and contact us if you want to know more about anything Bernal-related not shown here.
Upcoming Events
Jul 18, 2018 7:00pm-8:30pm (Wednesday) at Bernal Heights Branch Library
Bernal History Project monthly meeting: Show and Tell


This month's meeting will be a general show-and-tell get-together. More Info...
Historic Bernal News
Big Relief Station at Bernal Park Is Still in Operation

May 18, 1906 San Francisco Call


Hundreds of Victims of the Fire Appreciate the Good Work Being Accomplished by the Committee

Among the many relief stations opened throughout the city during the exciting days that immediately followed the catastrophe was one established in Bernal Park at the base of Bernal Heights. Before nightfall on the memorable 18th of April, hundreds of homeless men, women, and children, driven out of their dwellings in the southern district by the onrush of the flames, were cowering on the bleak hillside without food or shelter.

It was then that the experience of John H. Cook, who came from New York less than a year ago to take charge of the finishing department of the Thomas Day Company, proved of untold benefit to the sufferers. Cook had assisted in the relief work after the Baltimore fire, and again after the terrible cyclone that swept through Wallingford, Conn., leaving hundreds homeless and destitute. He quickly realized that something myst be done to alleviate the sufferings of the people gathered near Bernal Park; that food and shelter must be provided for them without delay. Calling to his assistance several of his neighbors he outlined his plans for the establishment of a camp to supply food to the 10,000 homeless and destitute who had flocked to the west side of the city. An hour later committees were at work, and as if by magic wagonload after wagonload of provisions began to arrive at Bernal Park. The neighboring lumber yards were levied upon for building material, and at dawn the following Friday morning a supply depot was in full operation.

In the meantime, those dependent on the help of their neighbors for food had been plentifully supplied with bread, canned meats and vegetables, and all danger of starvation had passed. That same Friday afternoon a supply of tents arrived from army headquarters, and those who were unable to find accommodations in the houses in the vicinity were provided with canvas homes. The work of caring for these homeless ones was no small task, for not a few of them spoke in foreign tongues and had great difficulty in making known their wants. Cook found interpreters for them and in addition made it his special care to see that they were well supplied with everything required to sustain life.

Army officers who have since visited the Bernal Park relief station say that it could not have been improved upon. Everything moves with clocklike regularity. Rations are distributed at certain hours and everyone receives his just share of what is to be distributed.

While many of the other stations established in the Mission district have been consolidated into army camps, Bernal Park station remains and is likely to be continued until the days calling for relief are happily passed.

Although hundreds of those who first sought assistance at Bernal Park have gone to the homes of more fortunate friends, or have been given accommodations at one of the concentration camps, several thousand persons still look to it for food, clothing and shelter. The army officers and Red Cross people, realizing the great good being accomplished at Bernal Park, have abolished several smaller stations in the vicinity and turned over the people to Cook and his assistants to care for. John Marlow and Peter Hughes, who have ably seconded the work of Cook through the trying days, are still at the station, and with him will continue to relieve the fire fleers until they are able to once more provide for themselves.