Bernal History Project
Bernal Heights is a hilltop village, tucked away in the southern part of San Francisco. Freeways and urban thoroughfares now bound a neighborhood once defined by the swamps and creeks of the original Mexican land grant. From the 1860s legend of Widow O'Brien's cow to the current fight over the preservation of the branch library's murals, residents have tirelessly guarded and recorded their environment. Bernal is diverse, vibrant, and still evolving.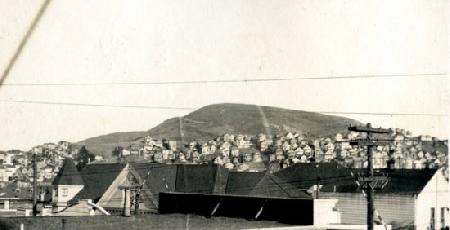 This site aims to provide a solid basis in researching the neighborhood. Browse the links, subscribe to our newsletter, and contact us if you want to know more about anything Bernal-related not shown here.
Upcoming Events
Sep 18, 2019 7:00pm-8:30pm (Wednesday) at Bernal Heights Branch Library
A History of Water in San Francisco and the Spring Valley Water Company


When you turn on your water faucet, do you ever think about the history of the water companies and delivery systems that allow you unfettered access to one of the most important and critical resources on the planet -- clean, fresh water? San Francisco is fortunate to have a pristine water source providing some of the best water on the planet to 2.4 million people in San Francisco, Alameda, Santa Clara, and San Mateo counties. More Info...
Historic Bernal News
Geese Stolen

February 26,1892



William McNamee was arrested last night for making a predatory raid on Mrs. Wilson's goose ranch on Bernal Heights.