Bernal History Project
Bernal Heights is a hilltop village, tucked away in the southern part of San Francisco. Freeways and urban thoroughfares now bound a neighborhood once defined by the swamps and creeks of the original Mexican land grant. From the 1860s legend of Widow O'Brien's cow to the current fight over the preservation of the branch library's murals, residents have tirelessly guarded and recorded their environment. Bernal is diverse, vibrant, and still evolving.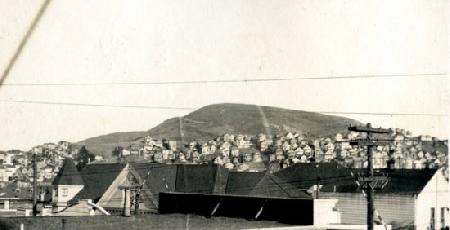 This site aims to provide a solid basis in researching the neighborhood. Browse the links, subscribe to our newsletter, and contact us if you want to know more about anything Bernal-related not shown here.
Historic Bernal News
Fire Engines At Holly Park.

June 26, 1894


Fire Protection Is Being Demanded by Its Residents.

The residents of that portion of the city south of Thirtieth street, in which Holly Park, Fairmount, Bernal Heights and the Excelsior Homestead are included, think that it is time that their homes should be protected from fire. An appeal will be made to the city authorities and a petition showing the needs of the citizens will soon be presented.

Of late, the number of fires and the property destroyed have alarmed the suburban residents, and the distance of their homes from the nearest fire engine has again been brought to their attention by two fires which occurred within a week, one at the Excelsior Homestead, where three buildings were destroyed, and the other at Holly Park, where another dwelling was entirely consumed. Some of the property would have been saved had there been fire protection within a reasonable distance.

The grades south of Thirtieth street, on Mission, San Jose and Courtland avenues, make it a tedious journey for the fire companies of the Mission to reach the scene of a conflagration. The residents in the sections referred to believe that a fire company should be located in the neighborhood of College Hill, which is the highest point on Mission street between the Four-mile and Six-mile houses.

The Bernal Heights Homestead, Holly Park and Fairmount, as well as the valley in which the Excelsior Homestead is located, could be quickly reached by having the engine at the highest point.

There are several thousand dwellings in these sections, any one of which would be almost totally destroyed if a fire should break out, so remote is the nearest fire company.

The Supervisors have appropriated $75,000 additional for the improvement of the fire service, and the suburban residents, who live in a district that is two miles from any apparatus, think their claims should be recognized.