Bernal History Project
Bernal Heights is a hilltop village, tucked away in the southern part of San Francisco. Freeways and urban thoroughfares now bound a neighborhood once defined by the swamps and creeks of the original Mexican land grant. From the 1860s legend of Widow O'Brien's cow to the current fight over the preservation of the branch library's murals, residents have tirelessly guarded and recorded their environment. Bernal is diverse, vibrant, and still evolving.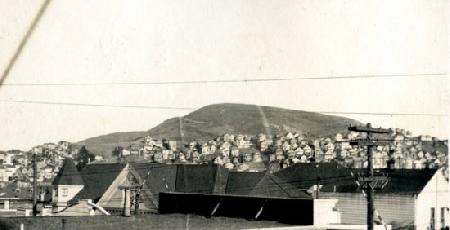 This site aims to provide a solid basis in researching the neighborhood. Browse the links, subscribe to our newsletter, and contact us if you want to know more about anything Bernal-related not shown here.
Upcoming Events
Jun 19, 2019 7:00pm-8:30pm (Wednesday) at Bernal Heights Branch Library
From the the Flats to the Hill: Bernal and Mission Neighborhood Newspapers Through Time


RESCHEDULED FROM JANUARY! A project of the San Francisco Department of Memory, Neighborhood Newspapers of San Francisco digitally preserves and promotes San Francisco community newspapers. More Info...
Historic Bernal News
Bernal Council to Discuss New Plans

June 15, 1920 San Francisco Chronicle



The newly formed Bernal Community Council will hold an important meeting tonight at 8 o'clock in the Bernal school. Various plans for neighborhood improvement through community organization will be discussed. The officers are: Herman Wierda, president; Mrs. Amelia Tiane, vice-president; Mrs Madge Blanchfield, secretary, and John Patton, treasurer.