Bernal History Project
Bernal Heights is a hilltop village, tucked away in the southern part of San Francisco. Freeways and urban thoroughfares now bound a neighborhood once defined by the swamps and creeks of the original Mexican land grant. From the 1860s legend of Widow O'Brien's cow to the current fight over the preservation of the branch library's murals, residents have tirelessly guarded and recorded their environment. Bernal is diverse, vibrant, and still evolving.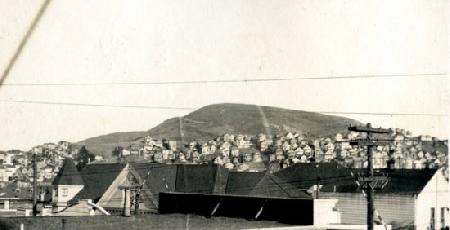 This site aims to provide a solid basis in researching the neighborhood. Browse the links, subscribe to our newsletter, and contact us if you want to know more about anything Bernal-related not shown here.
Upcoming Events
Mar 20, 2019 7:00pm-8:30pm (Wednesday) at Bernal Heights Branch Library
Holding up the Sky! Celebrating California Women and their Fight for Civil Rights


Since the early days of statehood, women in California have been at the forefront of the fight for civil rights. More Info...
Historic Bernal News
Mission Democrats Listen to Howe, Hammond and Levy.

August 26, 1881



The regions adjacent to Bernal Heights turned out the usual quota of devotees of the true Democracy last night to hear Howe and others of their party candidates in the hall on the Mission road, near Twenty-ninth Street. The residents of that locality have been much neglected and are difficult to please. They want street lamps and sidewalks, and a fire engine, and a park, and as one of the candidates despondently remarked, "the next thing'll be a schoolhouse."

"Schoolhouse, boy?" responded another; "It's noospapers an' common schools is killin' the party."

There was little enthusiasm except on the part of one individual who seemed to have an ardent desire to run the meeting himself. Mr. Howe artfully appealed for votes (and the point was well made with Mr. Cady's constituents), on the ground that the Democratic platform called for street sweeping by hand.

He also objected to the publication of the charge that he employed a Chinese house servant. There were "too many of the Howe girls to answer his door bell for that." Mr. Levy's criticism of Judge Pratt's jest that Judge Blake deserved well of Republicans because he had sent more Democrats to San Quentin than anybody else, met with the most spontaneous response of the evening, that being a matter evidently personal to all the unterrified.

Young Mr. Hammond exercised his lungs and the patience of the audience in a speech of considerable duration, and the meeting broke up.